Industry News
Rubber industry expects export recovery this year
Rubber exports are expected to reach 1.2-1.25 million tonnes of this year, a year-on-year increase of 5.5-10 per cent, according to the Việt Nam Rubber Association.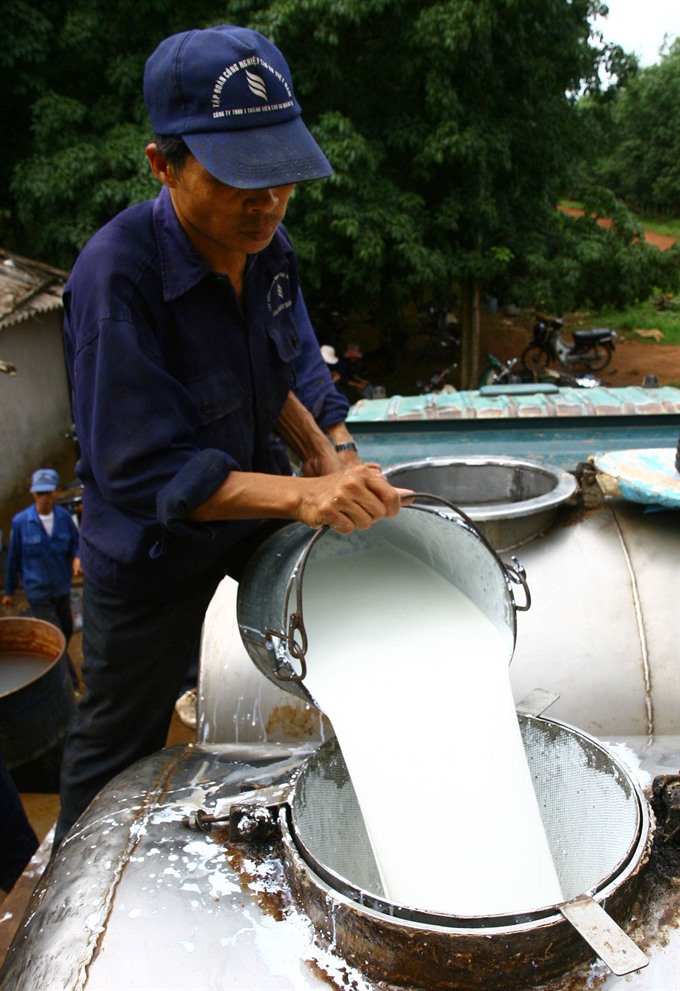 Workers in Quảng Trị Rubber Company collect rubber latex. The country had exported 1.12 million tonnes of raw rubber worth US$1.45 billion in the first 11 months. - VNA/VNS Photo Hồ Cầu

Speaking at a press conference to introduce the fifth International Exhibition on Rubber Industry and Tyre Manufacturing (Rubber and Tyre Vietnam) in HCM City on Tuesday, Võ Hoàng An, VRA's deputy chairman and general secretary, said the country had exported 1.12 million tonnes of raw rubber worth US$1.45 billion in the first 11 months.
The global market faces severe difficulties caused by a relentless decline in prices in recent years as supply outstrips demand, he said.

Việt Nam ranks third globally in output and fourth in exports, he said.

Production is expected to top 1.04 million tonnes this year.
Trần Thị Thúy Hoa, head of VRA's advisory board for rubber development, said many countries have reduced rubber production by reducing exploitation and chopping down rubber trees for replanting or growing other trees.
The lower output has pushed up rubber prices in the last two months, bringing hope to export firms and farmers, she said.
According to An, the fall in prices has benefited rubber processing firms, whose exports of rubber products are going up year after year.
Việt Nam earned $1.42 billion from export of products such as tyres, rubber accessories and conveyors last year, accounting for 39 per cent of the industry's total export revenues, he said.
Tyre exports are growing at 14 per cent a year, and reached $523.4 million last year, he said.
Nguyễn Quốc Anh, chairman of the Rubber-Plastic Manufacturers Association, said Việt Nam's exports of rubber products are worth just a tenth of Thailand or Malaysia.
Vietnamese firms should invest more in processing technologies and seek new buyers for their products, he said, adding that the Rubber and Tyre Vietnam, an international exhibition, would help them get up-to-date on technologies and products and build new relationships.
Rubber and Tyre VN
To be held at the Saigon Exhibition and Convention Centre from June 13 to 15 next year, the exhibition will see more than 80 local and international exhibitors displaying their latest equipment and technologies and products and services.
There would be conferences and seminars at the three-day exhibition, according to the Minh Vi Exhibition and Advertisement Services Co., Ltd, one of the organsiers.
A rubber sourcing fair will be held for the first time to enable Vietnamese tyre and rubber producers and foreign buyers to compare notes and explore business opportunities.
Source: VNS