Industry News
Bình Phước eyes investors for 13 industrial parks
The southern province of Bình Phước is seeking investors to inject more capital into its 13 industrial parks and spur industrialisation, the People's Committee said.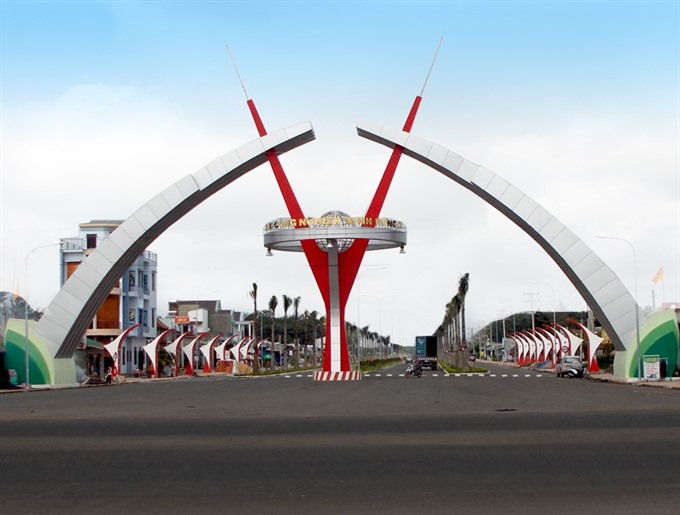 The entrance gate of Minh Hưng III industrial park in southern Bình Phước province. — Photo doanhnghiep.binhphuoc.gov.vn

Businessmen are being encouraged to invest in petrochemical, pharmaceutical, plastic and rubber components, and production projects with added value of 30 per cent or more, in addition to automobile manufacturing and auto components, electronic components, manufacturing machine tools, and machinery, equipment, parts and machines for agricultural sector, Bình Phước People's Committee Chairman Nguyễn Văn Trăm said.
They are also encouraged to invest in forestry, fisheries, salt production, and food processing plants, he added.
In the agricultural sector, the province is expecting investments in animal husbandry, refining of animal, poultry and fish feed, cultivation techniques, as well as crop and animal protection.
Bình Phước is also looking to attract investments in the housing sector for construction workers, besides formulating preferential policies on social housing for workers and employees, Trăm said.
The province plans to recruit some 20,000 to 25,000 workers for industrial production in 2017.
It is committed to supporting investors in all the administrative procedures and resolve problems, if any, Trăm said.
Procedures are already in place for investors to set up their factories, he added.
Of the province's current 13 industrial parks, eight are already operational in an area of 1,200ha. At least 164 projects are operational in the province, with domestic businesses having invested VNĐ3.5 trillion (US$154 million) in 64 of these projects. Investors are mostly operating in the sectors of wood processing, garment and textile, steel rolling, production of construction materials, mechanical processing, electronic components and automobile parts, employing more than 40,000 people.
The province is also forming 30 industrial clusters specialising in the processing of agricultural and forest products, some of which are specialised in processing export products such as cashew nuts, pepper and rubber. There are 140,000 employees working in such industrial clusters on an average monthly income of VNĐ4.5 million.
SOURCE: VNS
FEB 2017